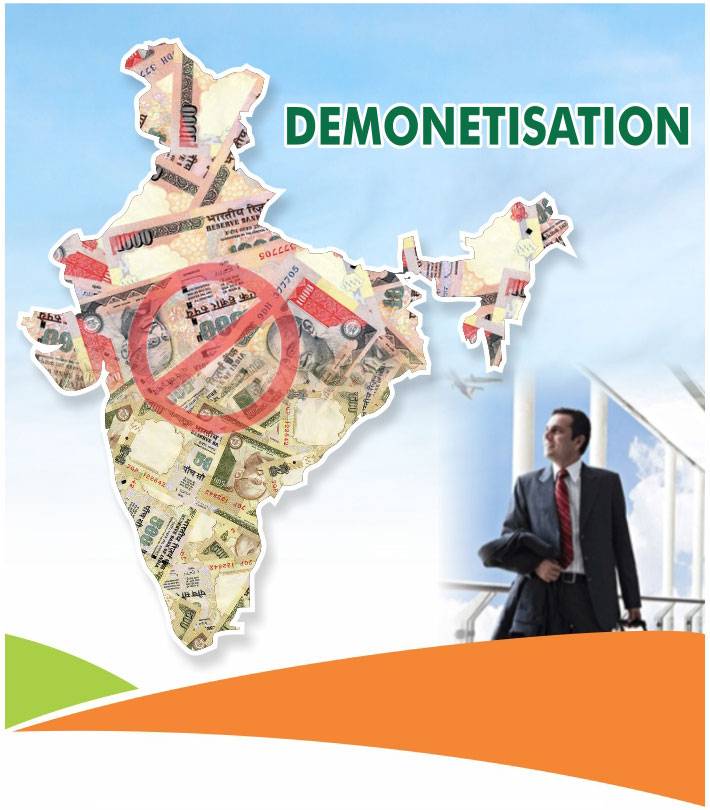 There is a common online joke in India these days that the new definition of a Tsunami is the sombre voice uttering -mere pyaare deshvaasiyo… With all the humour that it evokes on a daily basis, it is indicative of the powerful change that the storm named -Demonetisation- has brought into the country in the past three weeks or so.
On November 8, Prime Minister Modi shook the nation by his announcements regarding the demonetisation process in the country. Broadly, his announcement enunciated the following:
The legal tender character of the existing banknotes in denominations of 500 and 1000 issued by the Reserve Bank of India till November 8, 2016 (from now on referred to as Specified Bank Notes) was withdrawn.
All these notes could be exchanged over the counter in any of the 19 offices of the Reserve Bank of India and deposited at any of the bank branches of commercial banks/ Regional Rural Banks/ Co-operative banks (only Urban Co-operative Banks and State Co-operative Banks) or any Head Post Office or Sub-Post Office.
The minor details stood as following-
Over the counter exchange of the old notes of Rs 500 and Rs, 1000 was withdrawn post-midnight November 24, 2016.
From November 25, an individual could only deposit the old notes in their accounts and then withdraw new currency through ATMs or cheques at banks.
The government intends encouraging people who currently do not have accounts to open them and deposit the abolished notes.
There would still be a limit of Rs 24000 per week withdrawal per bank account
At the time of this article being published, ATMs can be used to draw up to Rs. 2,500 a day per card.
The RBI has doubled the limit on digital transactions through e-wallets like Paytm to Rs. 20,000 per month.
For Foreign citizens, the rule is that they would be permitted to exchange foreign currency up to Rs 5000 per week. However, now entries would be made in their passports. The RBI proposes to issue further guidelines regarding this.
The move also affected many NRIs who keep Indian currency with them sometimes. As per rules, NRIs are supposed to reconvert the Indian currency into their foreign currency before they leave India so that they don't have much Indian cash with them. In case for some reason they were not able to reconvert, the following applies to them-
BRING THE CASH WITH THEM TO INDIA
If planning to travel to India before December 30, 2016, then bring the cash and exchange it at any bank or post office in India.
Also, up to March 31, 2017, exchange the money at specified RBI offices by producing required documents (passport showing you were not in India before current visit from the time of announcement of demonetization, valid identity proof etc. Please check RBI website for more information)
SEND THE PHYSICAL MONEY WITH SOMEONE TRUSTWORTHY:
If unable to travel to India give the money to someone else trustworthy who is travelling to India.
They could then exchange it on the person's behalf.
It is advisable that an authorizing letter is provided to that person to exchange the bills on the NRI's behalf with other valid documents like PAN card, Aadhar card, Passport copy, Visa copy, etc.
Please do remember that the limit on currency a traveler can bring into India without declaring is Rs. 25,000.
IF THEY ALREADY HAVE CASH IN INDIA:
According to RBI guidelines, if an NRI already has old banknotes in India, he may authorize in writing and enable another person in India to deposit the notes into his bank account.
The person so authorised, has to come to the bank branch with the old banknotes, the authority letter given by you and a valid identity proof (Valid Identity Proof is any of the following: Aadhar Card, Driving License, Voter ID Card, Pass Port, NREGA Card, PAN Card, Identity Card Issued by Government Department, Public Sector Unit to its Staff).
DEPOSIT THE OLD NOTES IN YOUR NRO ACCOUNT:
NRIs can deposit your notes into their Non-Resident Ordinary (NRO) Savings Account.
However, this is an option only if they are traveling to India before December 30, 2016.
There have been some sections that are troubled by the system of changing old notes or withdrawals, but by and large, people are hopeful of positive changes happening in the economy. The bird's eye view or the big picture opinion seems to point out to the fact that in the long term, this move would reduce the dependence on cash alone, increase the inflow in banks leading them to reduce lending rates in the economy and thus, help increase demand in the economy.
While we attempt to bring you the latest in the country on this issue, it is vital to remember that new notifications are being issued almost every day. We do suggest you keep a close check on our website www.nrilegalservices.com and also verify facts from the RBI website www.rbi.org.in.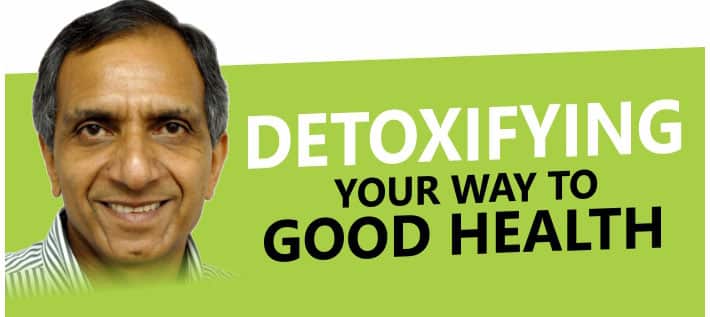 Detoxifying is an often misused word. However, if it were seen as yet another way to keep our body pure and free from diseases, one would learn to value this process. What is of immense importance, however, is that we respect our body, understand its needs and problems and then follow a detoxifying routine that adds energy to our basic system rather than leaves us feeling weak and starved. We do the routine cleaning at home only when we get time from our more pressing job or business responsibilities. In the same way, our digestive system takes care of the accumulated backlog only when we give it some rest. This rest comes in the form of light eating. As long as we are eating to our fill, there is no chance of the backlog to be cleared. The importance of weekly fast or a 12-day "detox" can be followed during the regime of a full Holistic course. We can reap huge benefits even by shorter rest periods too. Whenever you find yourself tired, out of sorts or uneasy, your first line of defence should be to skip dinner. Just this much of sacrifice will help you bounce back the next morning. It does not have to be zero food either. Maybe you can do with half the normal dinner? Or just a bowl of boiled vegetables or maybe soup. This intermittent fasting will help your digestive system to recoup fast. Some people rather skip lunch but that proves counterproductive because one feels voraciously hungry around 5 pm and ends up eating junk. If you are skipping dinner, make sure that you don't indulge in a midnight binge. Steel yourself and make sure that even if you find it difficult to sleep, you do not take anything except water after 9 pm. You will be so much the lighter the next morning and will find yourself full of renewed vigour. By the way, skipping dinner is also a magical remedy for eliminating cough and cold. At the first sign of throat irritation, decide not to eat anything after sunset. You will be in fine fettle the next morning.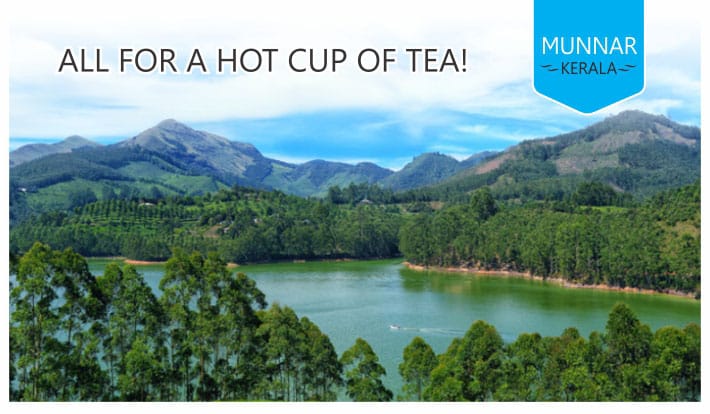 ALL FOR A HOT CUP OF TEA!
Munnar is perhaps one of the leading examples of what Rudyard Kipling said, "The first condition of understanding a foreign country is to smell it." Step into this city at the convergence of three rivers and be greeted by a range of flavoured aromas – tea, cardamom, ginger, pepper, cinnamon, espresso, nutmeg, and cloves. From refreshing to pungent, Munnar offers you a taste of life in its most raw yet most ethereal form. Mountain peaks, lush sprawling tea gardens, wilderness, meandering rivers and spice gardens – this and more in this enthralling home to waterfalls and tea estates. You could be walking along curved paths and simply breathe in the freshness that the fragrance of tea leaves laced with that of spices brings with it. Couple it with the opportunity to buy all the sources and you're bound to be in love with the experience that this part of the country offers. You could even indulge in sinfully delicious chocolates and convince yourself that the calories added are balanced by the sheer love, purity, and passion with which these are made by so many small ventures here – white or dark, liqueur or simple, plain or the 'nutty' ones!
At a height of about 6000 feet, this amazing geographical domain lends an enriching experience of walks through low floating clouds and misty roads, age-old architecture and nostalgic whiffs, dense wilderness and structured tea gardens! Childlike wonder and adventure could make you want to bounce and dance your way over the sloping tea bushes. Just as the misty environs during the rains and otherwise set your mind thinking on cinematic reels. Amongst the attractions here are a few tea estates at heights of almost 800ft – tough rides in jeeps through the mountain paths to reach the destination get negated by the spectacular view that you see from these heights. There are some tea factories standing strong and firm in their work since the early 1900s. The historical significance is enhanced by the fact that quality of the produce remains unmatched even now.
That Munnar has been an important summer resort for the British during the times of the Raj. One can still bask in the warmth of the colonial remnants even while enjoying the wilderness. Picture perfect gets a new definition here in Munnar. There is hardly any other place that offers such a vast spectrum of natural beauty. Lakes, hills, waterfalls, greenery and buildings, that tell different historical stories. The most amazing waterfall here called the 'Powerhouse Waterfalls is located on way to Thekkady falling from an altitude of 2000 metres above sea level, this is a must visit site for all tourists. It gets its name from the Power station located here on the waterfalls. Another tourist delight is the Floriculture Centre where one gets to view hundreds of species of flowers, decorative and medicinal plants, orchids and even cactus. The Mattupetty dam and lake are ideal beauty spots for people to enjoy boat cruises. The town is famous for its Indo-Swiss livestock dairy project and people enjoy homemade chocolates and other decorative artefacts. Another vantage point is Echo Point, at some distance of a few km from Munnar. Like any hill station, this is a point which gets its name from the spectacular views and the echo phenomenon here. Trekking and mountaineering can be enjoyed here.
Munnar gets considerable fame from its lake associated with Sita Devi in the quaint hill station of Devikulam in this area. Said to possess minerals and acclaimed to have healing powers, this lake attracts a lot of religious and other tourists. The Eravikulam National Park, located about 15 km from Munnar is home to the Nilgiri Tahr too. Easily comparable to the best mountain ranges in the world this was declared as National Park in 1978 due to the ecological significance and the flora, fauna and zoological importance of the place.
One of the most enchanting historical attractions is structures called -Dolmens-. These are megalithic tombs which are made of large granite slabs to form square burial chambers. It is said that sages (munis) were buried here. Besides, one can also find a lot of caves which overlook the Pambar River, and depict forms of rock paintings painted by tribes here. Marayoor-the part of Munnar which houses these structures now attracts tourists and is definitely not to be missed when you visit this part of the country.
Munnar is a name that leaves you with memories of rain and mist, hilly walks and whiff of tea leaves, spicy sojourns and homemade chocolates and a rendezvous with Nature in one of its best forms. Indulge yourself and soak in all of this while you discover this part of the country.