If one browses through the latest headlines about the now month-long border stand-off between India and China, he/she might think the Asian rivals are teetering on the brink of an armed conflict.
The rhetoric is full of foreboding and menace. A Delhi newspaper says China is warning that the stand-off "could escalate into full-scale conflict". Another echoes a similar sentiment, saying "China stiffens face-off posture".
In Beijing, the state-run media has begun reminding India of its defeat in the 1962 war over the border, digging out old reports and pictures of the conflict. Global Times has been particularly bellicose, first accusing India of undermining Bhutan's sovereignty by interfering in the road project, and then declaring that if India "stirs up conflicts in several spots, it must face the consequences of all-out confrontation with China".
The latest row erupted in mid-June when India opposed China's attempt to extend a border road through a plateau known as Doklam in India and Donglang in China.
India is concerned that if the road is completed, it will give China greater access to India's strategically vulnerable "chicken's neck", a 20km (12-mile) wide corridor that links the seven north-eastern states to the Indian mainland. And since this stand-off began, each side has reinforced its troops and called on the other to back down.
Delhi believes that Beijing is testing India's commitment to Bhutan in the latest stand-off, writes analyst Ajai Shukla. "China has always been galled by this close relationship, which has withstood sustained Chinese pressure to divide it," he says.
This time China has upped the ante against India. Foreign Ministry spokesman Lu Kang told reporters in Beijing on Tuesday that Indian forces should leave the area to avoid an "escalation of the situation".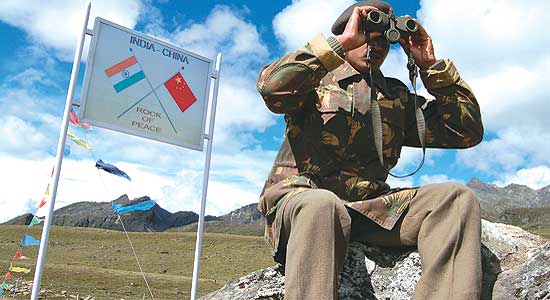 'Not a bluff'
Indian analysts believe China's warnings cannot be ignored. "In general, the Chinese pattern of use of force has been to prepare the ground with adequate statements and warnings. Hence, I think we should not take them lightly or see it as a bluff."
Tricky situation
Long Xingchun, an analyst at a Chinese think-tank, says "a third country's" army could enter the disputed region of Kashmir at Pakistan's request, using the "same logic" the Indian army has used to stop the Chinese troops from building the road in Doklam/Donglang. "Even if India were requested to defend Bhutan's territory, this could only be limited to its established territory, not the disputed area."
Clearly, for the stand-off to end, all three sides need an agreeable solution without losing face. As China hardens its position, many believe that finding a "three-way, face saving solution" would be tricky and time consuming. Relations between the two countries are also at their lowest ebb in many years.
Both sides possibly passed up an opportunity to resolve the crisis earlier this month when a potential meeting between President Xi Jinping and Prime Minister Narendra Modi on the sidelines of the G20 summit in Hamburg did not happen. India said a meeting with Mr Xi had never been on Mr Modi's agenda; and China's foreign ministry had said the atmosphere was not right for a meeting.
There's another window of opportunity coming up. India's influential National Security Adviser Ajit Doval is to visit Beijing for a meeting of BRICS nations later this month.
Despite the deteriorating relationship, a war is unlikely to break out. "I don't think either side wants an armed conflict. Nobody is interested in a war. Nothing in the [stand-off] area is worth a conflict. But both sides see their reputations at stake and that could lead to a prolonged stand-off," Srinath Raghavan, a senior fellow at the leading Delhi-based Centre for Policy Research think-tank commented.